LONG JOURNEY EMOTION
The high performance tyre for medium to high-powered cars. A perfect combination of low rolling resistance, plastic and acoustic comfort, good mileage guaranteeing the Pirelli braking and handling performances.
Advantages:
Outstanding safety and control
Excellent water expulsion
Steering response and cornering control
Tyre description:
ENERGY™ EFFICIENT: Reduces fuel consumption and CO2 emissions
CLEAN AIR: Made from eco-compatible materials that minimise environmental impact, both at the production stage and throughout the life of the tyre
HIGH MILEAGE: Longer lasting tyre that maintains high levels of performance and safety
LOW NOISE: Already complies with the 2012 EU Regulation on the reduction of noise, resulting in improved driving comfort
Pirelli's first "Green Performance" tyre, Cinturato P7™ has been created to take full advantage of latest materials, structures and tread pattern. design in order to guarantee savings, respect for the environment, comfort and safety on all road surfaces. Pirelli Cinturato P7™ is on the top in 2010 ADAC summer tyre test confirming its leadership in terms of performance, safety and eco-compatibility. Innovative and advanced hybrid material.Balanced pressure distribution.
Even wear: Optimised tread design with specific pitch sequence Reduction of rolling noise. Relaxed and comfortable driving experience. Compact central blocks and robust external area .Reduces tyre distortion during fast cornering. Steering response and cornering control. Four wide longitudinal grooves. Excellent water expulsion. Outstanding safety and control in potential aquaplaning situations.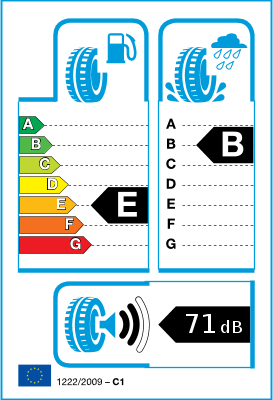 EU Tyre Label and Efficiency Classes
The European Union, under CE 1222/2009, has mandated that all tyres manufactured after the date of July 1 2012 for cars and commercial vehicles include standard EU Tyre Labels classifying them by three performance characteristics:fuel efficiency classified from A to G,wet grip classified from A to G, and noise emission in decibels.
Categories of tyres unaffected by this regulation include: retreaded tyres, professional off-road tyres, racing/sports car tyres, as well as certain types of tyres designed to improve traction such as studded tyres, T-type temporary spare tyres, tyres for cars built before 1990, tyres with a maximum allowed speed of 80km/h, tyres for rims with a diameter less or equal to 254 mm or greater or equal to 635 mm.
This label is intended on one hand to promote economic and ecological efficiency in traffic, as well as increase road safety, and on the other hand to help consumers select appropriate tyres by ensuring a certain degree of product transparency.
Nevertheless, the label has been criticized for only showing a very limited number of characteristics. Professionals argue that tyres have many more features that are important and relevant to road safety, including but not limited to aquaplaning properties, driving stability, service life, product properties on wet and dry roads other than wet grip, properties on snow.
Tyre manufacturers suggest that the test results from various institutions and industry magazines should remain a very important source of information for the end consumer, because they focus on and rate a wide variety of tyre properties and features.