The new ContiSportContact 5 - Control never has been sportier
Unlimited driving fun thanks to excellent grip.
With the launch of the ContiSportContact™ 5, Continental has developed a tyre which is equally suitable for sporty cars + SUVs with sporty driving characteristics. With this new development, the tyre engineers have made significant progress in camparison to the popular predecessor ContiSportContact™ 3: Shorter braking distances in all weather conditions.

Excellent road grip and safety when cornering. 
Reduced fuel consumption and high mileage. This was made possible due to a new compound which focuses on maximum power transmission and provides low rolling resistance whilst driving normally. This rubber compound which carries the name 'BlackChilli' uses the various vibrations of the tyre.
For high-performance and luxury vehicles. The performance tyre, with outstanding handling and control.
Engineered in Germany, Continental offers premium tyres with optimum braking performance and safety. With our Black Chilli Technology you have excellent road grip and handling just as safety when cornering. Highly recommended by Auto Bild in their summer tyre test 2014 (sizes tested: 225/50 R 17 W/Y).

Highlights:
Safety shorter stopping distance
Performance excellent
Handling
High mileage potential
Environment fuel efficient
Excellent road grip and handling just as safety when cornering. The macro-block design of the tyre's outside shoulder provides a larger contact area, which can therefore adapt optimally to the road surface. The ContiSportContact™ 5 offers improved road grip and thus more safety when cornering.
Shorter braking distances in all weather conditions. When braking, the tyre has a high natural frequency within the compound. Short-chain polymers in the Black Chilli compound of the ContiSportContact™ 5 react to this braking frequency and thus provide optimal energy absorption. The resulting heat shortens the braking distance on wet and dry roads.
Reduced fuel consumption and high mileage. At a constant speed, the vibrations in the compound are significantly lower. The long-chain polymers within the compound can release the absorbed energy better, resulting in considerably reduced rolling resistance. Thus, the tyre runs more easily and remains cool – for a higher mileage and a reduced fuel consumption.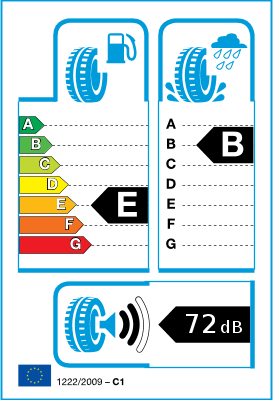 EU Tyre Label and Efficiency Classes
The European Union, under CE 1222/2009, has mandated that all tyres manufactured after the date of July 1 2012 for cars and commercial vehicles include standard EU Tyre Labels classifying them by three performance characteristics:fuel efficiency classified from A to G,wet grip classified from A to G, and noise emission in decibels.
Categories of tyres unaffected by this regulation include: retreaded tyres, professional off-road tyres, racing/sports car tyres, as well as certain types of tyres designed to improve traction such as studded tyres, T-type temporary spare tyres, tyres for cars built before 1990, tyres with a maximum allowed speed of 80km/h, tyres for rims with a diameter less or equal to 254 mm or greater or equal to 635 mm.
This label is intended on one hand to promote economic and ecological efficiency in traffic, as well as increase road safety, and on the other hand to help consumers select appropriate tyres by ensuring a certain degree of product transparency.
Nevertheless, the label has been criticized for only showing a very limited number of characteristics. Professionals argue that tyres have many more features that are important and relevant to road safety, including but not limited to aquaplaning properties, driving stability, service life, product properties on wet and dry roads other than wet grip, properties on snow.
Tyre manufacturers suggest that the test results from various institutions and industry magazines should remain a very important source of information for the end consumer, because they focus on and rate a wide variety of tyre properties and features.