Puts 4x4 performance safely on the road.
For high speeds in road use. For sporty SUVs. For high speeds in use on roads.

Engineered in Germany, Continental offers premium tyres with optimum braking performance and safety. Short braking distances and high cornering stability. Test winner by 'Gute Fahrt' in their summer tyre test 2014 for the size 235/55 R 17 V. The bionic contour of the tire narrows the tire when moving and widens it when braking.

This reduces the braking distance and ensures higher cornering stability. The tire's asymmetrical profile and outer rigidity guarantees exceptional cornering and a fun drive without compromising on safety. The four or five (depending on tire width) circumferential drainage grooves provide excellent protection against aquaplaning.
Highlights:
Short braking distances and high cornering stability
Safety reserves for outstanding handling and fun at the wheel
Low rolling resistance and excellent grip
Technical details:
Short braking distances and high cornering stability. The tire's bionic contour creates a disproportionately wider ground contact patch in the case of increased dynamic load, resulting in short braking distances and greater cornering stability.
Safety reserves for outstanding handling and fun at the wheel. Sturdy shoulder lugs on the outer side of the tire, linked to the ribbed tread pattern structure, mean steering precision and cornering stability, as well as optimum traction and braking characteristics. These large lugs linked to the circumferential rib give the tire a good foothold, thereby improving traction and braking, with optimum steering precision and straight running.
Low rolling resistance and excellent grip. The state-of-the-art high-performance car tire tread compound with silica technology ensures outstanding interlocking with the road, resulting in excellent grip and low rolling resistance.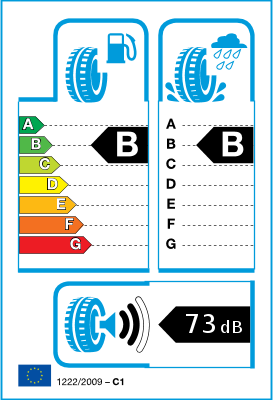 EU Tyre Label and Efficiency Classes
The European Union, under CE 1222/2009, has mandated that all tyres manufactured after the date of July 1 2012 for cars and commercial vehicles include standard EU Tyre Labels classifying them by three performance characteristics:fuel efficiency classified from A to G,wet grip classified from A to G, and noise emission in decibels.
Categories of tyres unaffected by this regulation include: retreaded tyres, professional off-road tyres, racing/sports car tyres, as well as certain types of tyres designed to improve traction such as studded tyres, T-type temporary spare tyres, tyres for cars built before 1990, tyres with a maximum allowed speed of 80km/h, tyres for rims with a diameter less or equal to 254 mm or greater or equal to 635 mm.
This label is intended on one hand to promote economic and ecological efficiency in traffic, as well as increase road safety, and on the other hand to help consumers select appropriate tyres by ensuring a certain degree of product transparency.
Nevertheless, the label has been criticized for only showing a very limited number of characteristics. Professionals argue that tyres have many more features that are important and relevant to road safety, including but not limited to aquaplaning properties, driving stability, service life, product properties on wet and dry roads other than wet grip, properties on snow.
Tyre manufacturers suggest that the test results from various institutions and industry magazines should remain a very important source of information for the end consumer, because they focus on and rate a wide variety of tyre properties and features.