FASTER THAN YOUR MIND
'A milestone in the development of the Pirelli range, P ZERO™ has been chosen as original equipment for the most performance orientated and powerful models on the market. A reference point for the ultra high performance segment, it is characterised by an asymmetric tread pattern. Ideal for all top of the range sports and high-powered cars, it can also be considered for powerful mid-range vehicles.'
Advantages:
Enhanced handling performance for sports driving
Safety and control in aquaplaning
Best braking and traction performance
Tyre description:
It is a ultra high performance tyre, technologically the most advanced.A tyre designed for the most prestigious OE fitments on premium new models.Another milestone in a continuous story of succes.The new tread design offers superior handling and braking performance on both dry and wet surfaces.The new high grip coumpund with nano-composites in the perfect solution for an enhanced driving stability and sensitive steering control.Three wide longitudinal grooves ensure an high aquaplaning resistance, while the s-shaped sipesare deigned to reduce rolling noise.The external area with large, rigid blocks is the ideal support to exalt handling characteristics when driving on the limit.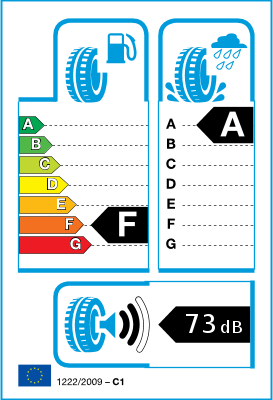 EU Tyre Label and Efficiency Classes
The European Union, under CE 1222/2009, has mandated that all tyres manufactured after the date of July 1 2012 for cars and commercial vehicles include standard EU Tyre Labels classifying them by three performance characteristics:fuel efficiency classified from A to G,wet grip classified from A to G, and noise emission in decibels.
Categories of tyres unaffected by this regulation include: retreaded tyres, professional off-road tyres, racing/sports car tyres, as well as certain types of tyres designed to improve traction such as studded tyres, T-type temporary spare tyres, tyres for cars built before 1990, tyres with a maximum allowed speed of 80km/h, tyres for rims with a diameter less or equal to 254 mm or greater or equal to 635 mm.
This label is intended on one hand to promote economic and ecological efficiency in traffic, as well as increase road safety, and on the other hand to help consumers select appropriate tyres by ensuring a certain degree of product transparency.
Nevertheless, the label has been criticized for only showing a very limited number of characteristics. Professionals argue that tyres have many more features that are important and relevant to road safety, including but not limited to aquaplaning properties, driving stability, service life, product properties on wet and dry roads other than wet grip, properties on snow.
Tyre manufacturers suggest that the test results from various institutions and industry magazines should remain a very important source of information for the end consumer, because they focus on and rate a wide variety of tyre properties and features.