Superior on tracks, powerful off the road.
For Crossovers, SUVs and Pickup Trucks.
The Grabber HTS guarantees great driving fun off-road and on firm surfaces. Innovative tread pattern design from General Tire ensures the perfect synthesis of comfort, performance and durability. This tire has a powerful grip and reacts in an optimal way to all surface demands in the most varied weather conditions. The reduced rolling resistance minimises wear and fuel consumption.
Born in the USA, General Tire offers products for all types of vehicles, for all seasons and all terrains
High performance in extreme conditions and track holding on asphalt
Fits perfectly for example to Honda CRV, VW Touareg and Ford Ranger
Features:
Duragen™: Ultra high strength steel belts, micro-fiber casing reinforcements, and a broad tire contour
Adaptive Performance: Response Grooves™, Stabilink Bars™ and three kinds of siping
Comfort Balance: Tread cushioning system and noise-capturing pockets
Eco-Ride: The latest generation fuel efficient tire compound
Benefits:
Born from competition but adapted for the highway, this technology provides even treadwear for longer mileage and confidence in challenging conditions.
Excellent all-season tire, enhanced steering response, reliable performance
Quieter, more comfortable ride
Improves fuel economy, minimizes CO2 emissions
High performance in extreme conditions and track holding on asphalt. DURAGEN technology uses the latest advances in technology. The tread ensures high performance off-road and tracking stability on asphalt.
Outstanding steering precision. The flexibly responsive groove geometry and stabilising tread bands anterior to the shoulder area ensure the Grabber HTS sits firmly and safely on the road and exhibits outstanding steering precision.
Improved traction and reduce aquaplaning risk. Water-repellent lateral grooves constantly channel water away, improve traction and overcome the fear of aquaplaning.
Short braking distances, improve acceleration and steering performance on slippery ground. Optimised longitudinal grooves shorten braking distances and improve acceleration and steering response on slippery surfaces.
Reduced fuel consumption and CO2 emissions. The even tread pattern with high-tech contour reduces fuel consumption and thus CO2 emissions.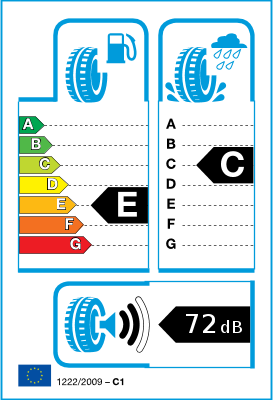 EU Tyre Label and Efficiency Classes
The European Union, under CE 1222/2009, has mandated that all tyres manufactured after the date of July 1 2012 for cars and commercial vehicles include standard EU Tyre Labels classifying them by three performance characteristics:fuel efficiency classified from A to G,wet grip classified from A to G, and noise emission in decibels.
Categories of tyres unaffected by this regulation include: retreaded tyres, professional off-road tyres, racing/sports car tyres, as well as certain types of tyres designed to improve traction such as studded tyres, T-type temporary spare tyres, tyres for cars built before 1990, tyres with a maximum allowed speed of 80km/h, tyres for rims with a diameter less or equal to 254 mm or greater or equal to 635 mm.
This label is intended on one hand to promote economic and ecological efficiency in traffic, as well as increase road safety, and on the other hand to help consumers select appropriate tyres by ensuring a certain degree of product transparency.
Nevertheless, the label has been criticized for only showing a very limited number of characteristics. Professionals argue that tyres have many more features that are important and relevant to road safety, including but not limited to aquaplaning properties, driving stability, service life, product properties on wet and dry roads other than wet grip, properties on snow.
Tyre manufacturers suggest that the test results from various institutions and industry magazines should remain a very important source of information for the end consumer, because they focus on and rate a wide variety of tyre properties and features.